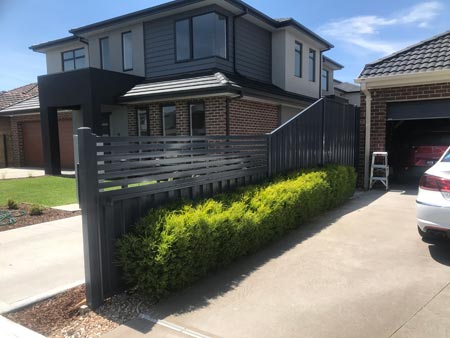 The Fencing Professionals in Melbourne
Auron Plastic Coaters P/L was established in 1986 and has been servicing Melbourne with high-quality tubular fencing ever since. Our Tubular Steel range includes round and square tubular gates and fences. All our tubular steel products are made from galvanised steel and are powder coated in a range of colours on our premises.
We can guarantee that our work will be according to your demands and preferences. Our fences and gates can be customised to suit your requirements with additional spears, rings, scrolls and other components.
Our budget imported range includes standard-sized flat-top panels and gates. These are constructed from pre-galvanised steel with silicon bronze welding. The dimensions are 38x25x1.6mm rails and 19ODx1.2mm rods. The panel sizes are 2.4m x 1.2m and gates are 0.95m x 1.2m and are available in black only. Our standard range and the premium range offers several designs and colours.
Feel free to reach out and Contact Us for all your fencing enquiries. We are located at 2 View Rd, Epping. You can call us on our phone 0418 967 768. You can also email us via sales@auronfencing.com.au.
Testimonials
"Ben is a good bloke. He works hard and does exceptional work for all his customers. Everything I've always ordered has been delivered at its highest expectations. Powder coating is always done well. Keep up the good work. Thank you"Transporter185
"We had a gate put in the driveway area in the reservoir area. It looked better than we had expected. The tradesperson turned up when he said he would and the price was decent. Was also one of the only tradesmen that didn't expect me to do my own measurement and send photos. Because seriously what do they think we are paying them for. We'll be using them again."Grace Mccall